Anthony G. Herles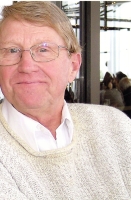 Brief
She
Said
Yes
They
Wed
He
Took
Her
Abed
They
Bred
Life
Lived
Then
Fled.
Ghost
Ghost comes to me
After I get into bed
She leaves red lipstick stains
On my ears
My pencil rises
To make marks
On yellow legal pad pages
Which I will
Read in the morning.
Flaw
The flaw hides somewhere
Buried
Deep beyond the knowing.
Hidden,
Tucked away
As protected wishes
Creeping out
To laugh at us
While we sleep.
About the Author
Mr. Herles is a retired New York State English teacher. He taught English at the high school level for thirty years at Highland High School, in Highland, New York. He also taught as an adjunct lecturer (part time) for twenty years at Dutchess Community College in Poughkeepsie, New York. He has also taught a Flash Fiction course at BARD COLLEGE.
His poetry has appeared in: THE NEW YORK TIMES, HAPPY, PEN WORKS, WORDS OF WISDOM,NEW AUTHORS JOURNAL, THE HARTFORD COURANT, THE POETRY EXPLOSION NEWSLETTER (THE PEN), BARBARIC YAWP, NEW ENGLAND WRITERS NETWORK (NEWN), THE BLIND MAN'S RAINBOW, THE LYRIC, THE POET'S ART, and CHRONOGRAM.
His fiction has appeared in: HAPPY, WORDS OF WISDOM, TIMBER CREEK REVIEW, NEW AUTHORS JOURNAL, RIVER POETS JOURNAL, THE STORYTELLER, JAW MAGAZINE, THE WRITER'S POST JOURNAL, TRAJECTORY, and BARBARIC YAWP.
One essay published in NEW AUTHORS JOURNAL
Anecdote published in PLAYBOY
Chapbooks published by PROPAGANDA PRESS:
FOURTEEN SINGLES
POUGHKEEPSIE ICEHOUSE
MEN STUFF
BOB BARKER DIED
(click here to close this window)