Kate Reese Hurd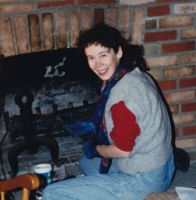 Here are some samples of Kate Reese Hurd's poetic miniatures on the speech sounds. Her book (see below in "About the Author-Composer") includes a glossary and contains fifty-seven sets of etudes – usually four etudes per set for each vowel and consonant – and the etudes in each are chosen to reflect the range of word-images that each sound participates in.
Single vowels:
Middle full placement:
Ghost moan-groans cloak those cold tholos groves. Hoooh!
Plumed kook-troupes cruise dune-routes new moons, nude – who knew?
Upper brighter placement:
Madcap Sam ran vast flat crabgrass lands? and dashed past Granddad's shack? Nah!
Seeds receive heat, leave sheathes 'n heave beneath peat-sheets.
Taller darker placement:
Puck's lush runs flood the dusk, rush from hummock to hut – hush!
Ferg's bird murmured, churred, "Spur Earth's birth! Nurture verve, mirth!"
Single consonants:
earth/plosive:
for the set of four
B
etudes, see
The Speech Sound Etudes
announcement card below
Tentative turtles tiptoe to tall turreted towers.
Gargantuan gusty gales engulf gorges, gouge gullies.
Noisy neighing nags nibble nettles in North Nooks.
water/wavelike/gliding:
Lazy loping laggard loiterers learn loathsome lessons late.
Wise worthy witches warn of wicked warlocks, werewolves and weird wayward wizards warring: beware!
air/rotating:
Really? Are reckless rascals running rampant, racing ratlike 'round rocky rubble?
fire/breath:
Huge Hubert's humongous hudibrastic hubris humoresque humiliates humans humanely in humid Houston. Ach!
Schuss-like Shenandoah showers shoot; sheen 'n shadows shift 'n shimmer.
Virile vengeful Visigoths vanquish invading Vinland Viking vandals.
Egads! The kudzu near Maude's sheds hides loads of katydids 'n broods of toads, but weds their moods 'n song-feuds into odes to the clouds.
resonating:
Zany zodiac zealots zoom t' zenith zones. Zoiks! (
resonating fire
)
Though they are there for thee, go thou thusly the way thereunto them thyself, thisaway … thence to those that are therein … therefore, then 'n there. Thar. (
resonating fire
)
Misty moonlit mizzle made marvelous moss mounds moist. Magnificent! (
resonating earth
)
Combination consonants:
Dracula dreamt of drinking dreadful drafts, drips 'n droplets in dribbles 'n drabs.
Blimey! Bleating blabbermouth blowhards blurt bloopers and blat blow-by-blow blunderbuss blather.
Snide snollygosters sneer, snarl 'n snipe at sneaky snakes.
Vowel-to-consonant:
Endowed with a powdery shroud, a proud cloud-crowd bowed 'n plowed – how devilishly loud!
Debonaire rebel Ebenezer debits a nebulous ebonized Lebanese web.
Lulu saw Jusef with an obtuse goose and a reclusive babirusa vamoosing to Yamoussoukro in a loose caboose to get some mousse? – sounds like Seuss, but abstruse!
The efficacy of effulgence and effeminate effusions is iffy; but effete effacing effluvium is not effective.)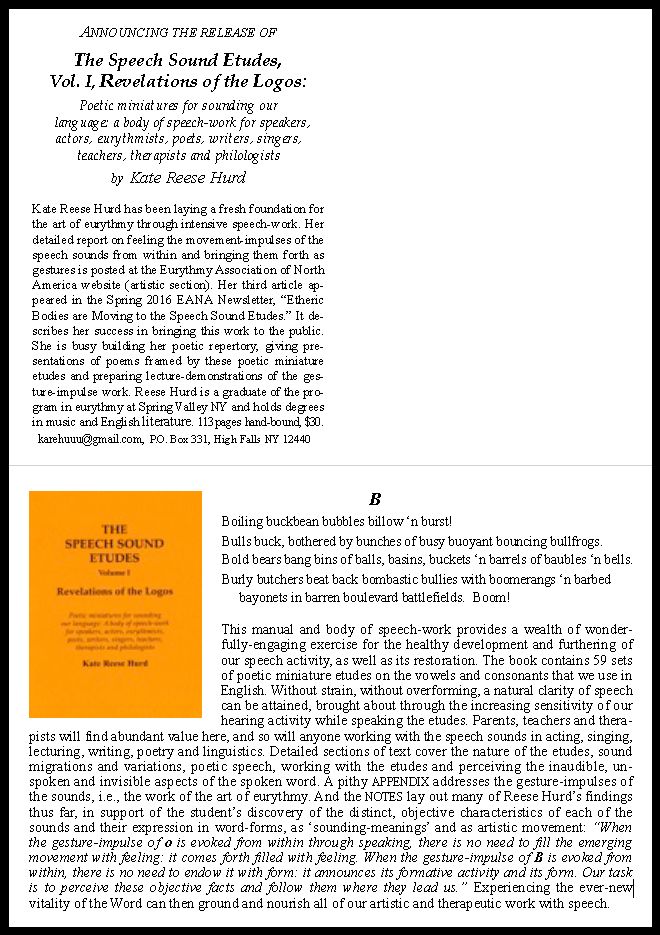 About the Author-Composer
Kate Reese Hurd hadn't intended to develop her voice and skill with the spoken word so as to become a regular presenter of poems and poetic miniatures at local poetry gatherings. These activities came as a totally unexpected gift that manifested as a result of her determination to lay a fresh foundation for an art of movement known as eurythmy. One of the keys to this fresh foundation has been her thorough engagement with the speech sounds of our language. And her medium for this engagement has been the poetic miniature etude-studies she has composed for each of the vowels and consonants. Through learning and honing these poetic miniatures, and through intensive speech-work with them, she has learned to discern and know the quintessential movement urge, the 'gesture-impulse,' of each sound. But along the way, she became aware that laying hold of these gesture-impulses directly is not only essential for the art of eurythmy in its expression of poetic speech through movement; laying hold of them is also essential for all arts that involve the spoken word. And it happened that through her intensive speech-work, she developed a gift for fathoming and giving voice to the rhythms, musicality and sound-moods of poems; and she has felt driven to share this poetic richness out loud with others whenever and wherever opportunities arise. (Please feel free to inquire and request.)
Reese Hurd's recent book presents the poetic miniature etudes for the vowels and the single consonants:
The Speech Sound Etudes, Volume I: Revelations of the Logos
, with the subtitle,
Poetic miniatures for sounding our language: a body of speech-work for speakers, actors, eurythmists, poets, writers, singers, teachers, therapists and philologists
. Her detailed research report on her foundation work is posted at the Eurythmy Association of North America website (artistic section) and is now available as a companion booklet:
The Speech Sound Etudes: Feeling the Gestures and Finding the Figures
. Since its posting, she has been writing articles for the EANA Newsletter. Her third article, "Etheric Bodies are Moving to the Speech Sound Etudes," appeared in the Spring 2016 edition. It describes her success in bringing this work to the public in the form of recitations of poems framed by these poetic miniatures, which evoke the sound-moods that belong to each poem. She is busy building her poetic repertory, presenting poems and the etudes, preparing lecture-demonstrations of the gesture-impulse work and developing her eurythmy work. Teaching will be part of her unfolding activities. She also continues to compose etudes for mastering the interactions and crucial transitions between the speech sounds. In due time, these will be published as
The Speech Sound Etudes, Volume II: The Combination-Consonant Etudes and Volume III: The Vowel-to-Consonant Etudes
.
Reese Hurd is a graduate of the program in eurythmy at Spring Valley NY and holds degrees in music and English literature. A description of the life path that led her to her present work can be found at the back of both her book (
Volume I
) and her research report. Kate can be reached at:
karehuuu@gmail.com
.
(click here to close this window)