Phillip X Levine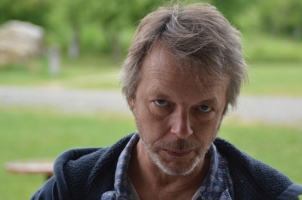 Thread
Here, take this thread.
Consider it, caress it
Run it through your fingers
Taste its color, feel how smooth
If you finally wish
Thread it through your single eye,
Hand me back the end
and I will do the same.
This back and forth will weave a world
We can do this
This mystic stitch, this slender line that runs
from me to you and back again
We live along its length
Soon
i met this girl who said "let's get together soon", i didn't know she meant soon, as in never
The day. The day is light. And the day is long and has many rooms between the hours. The day also travels a long arc up and up and then back down again from middle, and a Calculus can count the length and width and area beneath this curve and tell us this place is large and has room for many things, many that we know, and many more still. There is a room for joy with her large funny hat, that bounces as she bounces, with laughter or something like it. And sadness too, can have a room, she who likes to sleep, to take naps in the afternoon between top and shadow.
And today is also a place I know and go to as if returning, and so I know there is a point or place or time for you and me along this curve of day, a place by a fire, where we can burn all our old stories of loss and failure and warm our feet while we do it, because this fire is warm and soothes. And this fire is also hot and dances. And I see it in your eyes. And I know it is in mine. And by this fire I can watch your fingers curl and uncurl and think perhaps they wish to touch. And I can feel mine curl and uncurl too, even as I think to hold them still. But they will not, as they have ten hearts and minds and desires of their own and wish to find their mates in yours.
So one by one to five then ten they arch across the spaces there between us, that is, the spaces between mine and yours and all that could be ours, like your ten with their ten, their hearts, minds, desires and all the same as all of mine and all that dances there in this fire. And soon together ten and ten close and open. Open and close together again. And soon beads of moisture gather there in their folding and, glistening, collect the light.
Then I risk to think they will be sweet when tasted, but it is to be waited for like dessert. For is not waiting the sweetest taste of all?, for what is it but anticipation that brings a mouth to water?, that brings the tongue to swelling, purses lips and opens eyes to wide and wider still. So I am feasting in this waiting, and if we share this waiting, then so we share a feasting. And in this way a feast is made.
And by this, my heart is quickened, and soon it also pauses. And soon again quickens and soon again pauses. And soon this hardens and soon this softens, and soon between the beating, and between the pausing, and between the hard, and between the soft, soon there would be touching, yes soon. Yes soon there will be touching, and yes soon there will be touched, and soon I will, yes soon you will, yes soon we will. Yes. Soon. Soon.
Soon.
Hooked
memory: a sponge, a vessel swelled with want like water
a blowfish, a balloon of finest flakes of flesh (beware the needle bones)
slip
slip
slip
out of sleep
light
slips light
slips fingers
under sheets
untangles mine
from yours, out of ours
unfolds me over you onto feet into day (
forgive the day
)
Hand in hand
on steering wheel steering
big apple into little mirror
We angle east to deep wide open
The Belt loops around it all.
Dry flat womb of Queens, bully chin of Kings
Loosens at Atlantic altars. Avalons:
Gravesend, Sea Gate, Oriental. Bare, bright, Brighton.
Past Amelia's Field to Riis Park, Breezy Point, Seaside, and nearly Far Rockaway,
rockabye
And oh, we used to fish
Aching, arching rods unreeling
slipping line into wave beneath foam
Bending over backward breaking wave
The barb, the tip, the hit
Float and foam and rush to falling
to forever after falling
Toss and twist and turn to falling
to turn
to now
returned to now
to no line, to no reel, to now
to unheld empty hand
to useless elbow, still bending and unbending
to head, to heart, to now, to
hooked
Like fish or bait or boot
Kick me. I hunger.
Clams or mussels or abalone
but not fish, never fish, can't risk fish
So peering
over shoulders into other people's buckets
Staring toward Paris from the pier off Coney Island
almost falling
Acknowledgments
The poem "Soon" appears in the anthology
"Introduction to the Prose Poem" (Firewheel Editions, 2009)
.
About the Author
Phillip X Levine is a poet, actor, director, yurt dweller and has been known to refer to himself as a "poet, approximate". He is the poetry editor for the Hudson Valley magazine
Chronogram
, was the host of the weekly Monday night Poetry/Prose/Performance open-mic at the Colony Cafe in Woodstock, NY from June, 2001 through November, 2008, and is the president of the Woodstock Poetry Society (he maintains this web-site). He is a five-year alumnus of the Chenango Valley Writers' Conference and was an invited reader in 2002 and 2005. He was a featured poet at both the 2001 and 2002 Woodstock Poetry Festivals and competed in the 2000 National Poetry Slam. In June, 2008, Phillip gave the commencement speech for the graduating seniors at the Woodstock Day School in Woodstock, NY.
Phillip believes that our most desperate endeavor is to put meaning into our lives, and he does that by acting, performing, writing, chasing those iridescent moments of what Martha Graham called "queer divine dissatisfaction." He can be reached at:
pprod@mindspring.com
.
(click here to close this window)