Woodstock Poetry Society
Featured Reading and Open Mike
Saturday, May 11th, 2018 at 2pm
Golden Notebook (Upstairs)

Judith Saunders
Lucia Cherciu

Poets Judith Saunders and Lucia Cherciu will be the featured readers, along with an open mike when the Woodstock Poetry Society meets at Golden Notebook (Upstairs), 29 Tinker Street on Saturday, May 11th, 2018 at 2pm.

Note: WPS meetings are held the 2nd Saturday (2pm) of every month at Golden Notebook (Upstairs).

Golden Notebook (Upstairs)
29 Tinker Street
Woodstock, NY 12498
www.goldennotebook.com
845-679-8000

The reading will be hosted by poet Phillip X Levine. All meetings are free, open to the public, and include an open mike.

*
Features:

Judith Saunders - Judith Saunders is a Hudson Valley writer whose poetry has appeared regionally and nationally in a wide variety of anthologies and periodicals. Most recently her work has been published in Blue Unicorn, ISLE, Snowy Egret, The Gay and Lesbian Review, Chronogram, and The Chiron Review. She is the author of two prize-winning chapbooks of poetry.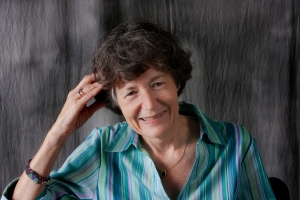 Underground Activity

An alligator climbs determinedly
absurdly, horribly, from its hole
in gritty university soil
onto the temporary fence
guarding a Berkeley construction site,
slithering up a readymade canvas
already crammed with unauthorized art,
tell-tail trails of dark-red paint
staining a convenient crevice
where the crudely rendered, scarlet torso
of an outrageous reptile
(laughing open-jawed, triumphant)
emerges from radical depths
to leap into the frame,
seizing this chance
for light and air and immortality.

-Judith Saunders
(first published in Poetry USA)

*

Lucia Cherciu - Lucia Cherciu is a Professor of English at SUNY / Dutchess Community College in Poughkeepsie, NY, and writes both in English and in Romanian. Her books include Train Ride to Bucharest (Sheep Meadow Press, 2017), Lalele din Paradis / Tulips in Paradise (Eikon, 2017), Edible Flowers (Main Street Rag, 2015), Altoiul Râsului / Grafted Laughter (Brumar 2010), and Lepadarea de Limba / The Abandonment of Language (Vinea, 2009). Her poetry was nominated three times for a Pushcart Prize and twice for Best of the Net. Her web page is http://luciacherciu.webs.com.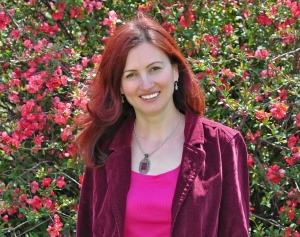 The New Church

The old cupola glinted above the clouds, shone
among fir trees, but it took him two hours

to walk all the way up the hill. As he trailed,
the village passed him by, greeted him,

asked about his health, but everybody hurried
to catch the mass, left him leaning against fences,

measuring the road with the walking stick he sculpted.
He yearned for the day when the new church

would be built—right across the road. Now
it rises above the moon: saints in frescoes

meet the eye. The rain has started to cut
through the old shingles on the roof of his empty

house. The apple trees have taken over the sky,
sequestered the gate, sidled over the porch.

-Lucia Cherciu

*

Developing WPS 2018 Schedule - all readings at Golden Notebook (Upstairs)
All of 2018 Events: Events

01/January 13th - Philip Pardi; Sparrow
02/February 10th - Frank Boyer; Philip Fried
03/March 10th - Cheryl Rice; Guy Reed
04/April 14th - Donald Lev; Mary Leonard
05/May 11th - Judith Saunders; Lucia Cherciu
06/June 9th - Dennis & Justin Bressack
07/July 14th - Therese L. Broderick; TBA
08/August 11th - TBA
09/September 8th - Catherine Arra; TBA
10/October 13th - Barbara Elovic; Carl Rosenstock; Richard Levine
11/November 10th - TBA
12/December 8th - TBA and Annual Business Meeting

Also, why not become a 2018 Member of the Woodstock Poetry Society?

Membership is $20 a year. (To join, send your check to the Woodstock Poetry Society, P.O. Box 531, Woodstock, NY 12498. Include your email address as well as your mailing address and phone number. Or join online at: www.woodstockpoetry.com/become.html). Your membership helps pay for meeting space rental, post-office-box rental, the WPS website, and costs associated with publicizing the monthly events. One benefit of membership is the opportunity to have a brief biography and several of your poems appear on this website.

(click here to close this window)