Woodstock Poetry Society
Featured Reading and Open Mike
Saturday, February 8, 2014 at 2pm
Golden Notebook (Upstairs)

Gary Siegel
Joanne Pagano Weber

Poets Gary Siegel and Joanne Pagano Weber will be the featured readers, along with the WPS Annual Business Meeting and an open mike when the Woodstock Poetry Society & Festival meets at Golden Notebook (Upstairs), 29 Tinker Street on Saturday, February 8, 2014 at 2pm. Note: WPS&F meetings are held the 2nd Saturday of every month at Golden Notebook (Upstairs).

Note the venue - we will be at Golden Notebook (Upstairs) for this reading and throughout 2014. Thanks Jacqueline, and all at Golden Notebook.

Golden Notebook (Upstairs)
29 Tinker Street
Woodstock, NY 12498
www.goldennotebook.com
845-679-8000

Woodstock Poetry Society & Festival as part of the Woodstock Arts Consortium is sponsoring this poetry event as part of the Woodstock "Second Saturdays" Art Events. For a full listing of "Second Saturday" events, see: www.artsinwoodstock.org.

The reading will be hosted by poet Phillip X Levine. All meetings are free, open to the public, and include an open mike.

*
Features:

Gary Siegel - His life in poetry began in about 1980 when he was invited to contribute music to a Choreo-poem project. His illustrious musical contributions included playing percussion on a plastic garbage can.
Slowly he was hooked as he began to attend regular poetry readings in Staten Island. He became a regular contributor to what was called the Harbor Series, a Staten Island fixture that went on regularly for 20 years.
His poetry biography would not be complete without mentioning his exposure to Allen Ginsburg and William S. Burroughs at Naropa University in Colorado in the Mid 80's . It was like a transmission, it enlivened what poetry is and mocked what poetry masqueraded as in grade school.
A project in 2010 – Autumns Return saw him spending extended time in nature and writing nature poetry for a full cycle of a year.
In 2012 came the founding of the Kinston Poetry Brothel – A poetry performance troupe which continues to perform in our Hudson valley area. The required creation of an alter ego to read poetry in this venue - expanded his repertoire still further, however Mr. Siegel notes that his alter ego has nothing on him at all.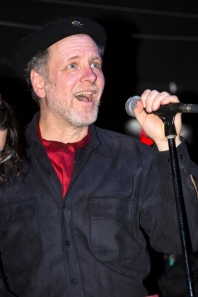 Lumen
Thousands of Green Lanterns,
Lit by the Sun,
Shine softly today,
as the Rain muted Light
Shines gently,
Lighting up the Leaves into a Glow.
-Gary Siegel
*
Joanne Pagano Weber - Joanne Pagano Weber is a visual artist, writer, and performer expanding the matriarchal storytelling tradition which she absorbed during her youth in the Bronx. Embarking on an unorthodox course of study in Fine Art, she became a textile designer in New York. Avidly drawing, painting and sculpting with mentors and friends who interpreted the human form and narrative in personal and novel ways, she branched into performance after graduate school, bridging a lifelong love of writing and visual art.
Joanne Pagano Weber is collaborating with the sculptor Janice Mauro on a continuing series of installations dealing with the future ramifications of global warming. She was a member of writing and performing group The No Chance Ensemble which she directed for many years, and which reunites from time to time. She exhibits at Art 101 in Williamsburg, NY, and teaches Fine Art at Union County College in Cranford, New Jersey, and The College of Mount Saint Vincent in Riverdale, New York.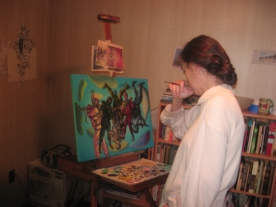 The Muse and the World
The world came knocking all too soon. Her shoulder, its inimitable turn,
wrenched in the other direction.
He stripped her of celebrity.
From that day on it was Her, not She.
Pudding features, unplucked brows and hooded eyelids, average body and
plebian clothes. The whole of her drawn inward, exuding nothing, not even
reflecting light. She existed in the airless realm of hatch-marks, locked into the
environment he provided, the only one in that could imprison a vision he
deemed a little too ambitious. More ambitious than the mere confrontation of portraiture.
This was the justice he demanded for a girl who considered the
world more important then himself.
They have no rigor. Gimmicks, he said.
Smoke and mirrors.
They're getting too big too fast.
They won't have time to mature before they can fill their demand.
All they have is content, which they sometimes label concept.
You take that away, nothing there.
Hacks, he said.
Take off your sunglasses. Look at the affectation in their style.
They'll outgrow it.
Not for a while.
But you.
Stay right there.
-Joanne Pagano Weber
***
2014 Schedule

01/January 11th – Darcy Smith; Tim Dwyer & 2013 Annual Business Meeting
02/February 8th – Gary Siegel; Joanne Pagano Weber
03/March 8th – Marina Mati; Robert Milby
04/April 12th – Dennis Wayne Bressack; Donald Lev
05/May 10th – Karen Schoemer; Timothy Brennan
06/June 14th – Rebecca Schumejda; Theodore Phelps
07/July 12th – Anique Taylor; Sparrow
08/August 9th – Alison Koffler; Jo Pitkin
09/September 13th – Lee Slonimsky; Sarah Van Arsdale
10/October 11th – Richard Loranger; Teresa Costa
11/November 8th – Lee Gould; Norma Bernstock
12/December 13th – Dennis Sullivan; Joe Krausman & 2014 Annual Business Meeting

Also, why not become a 2014 Member of the Woodstock Poetry Society & Festival?
Membership is a nominal $15 a year. (To join, send your check to the Woodstock Poetry Society, P.O. Box 531, Woodstock, NY 12498. Include your email address as well as your mailing address and phone number. Or join online at: www.woodstockpoetry.com/become.html). Your membership helps pay for meeting space rental, post-office-box rental, the WPS website, and costs associated with publicizing the monthly events. One benefit of membership is the opportunity to have a brief biography and several of your poems appear on this website.