Woodstock Poetry Society
Featured Reading and Open Mike
Saturday, January 10th, 2015 at 2pm
Golden Notebook (Upstairs)

Ken Holland
Perry S. Nicholas (postponed)

Poet Ken Holland will be the featured reader, along with an open mike when the Woodstock Poetry Society & Festival meets at Golden Notebook (Upstairs), 29 Tinker Street on Saturday, January 10th, 2015 at 2pm. Poet Perry Nicholas was forced to postpone his featured reading. Note: WPS&F meetings are held the 2nd Saturday of every month at Golden Notebook (Upstairs).

Note the venue - we will be at Golden Notebook (Upstairs) for this reading and throughout 2015. Thanks Jacqueline, and all at Golden Notebook.

Golden Notebook (Upstairs)
29 Tinker Street
Woodstock, NY 12498
www.goldennotebook.com
845-679-8000

Woodstock Poetry Society & Festival as part of the Woodstock Arts Consortium is sponsoring this poetry event as part of the Woodstock "Second Saturdays" Art Events. For a full listing of "Second Saturday" events, see: www.artsinwoodstock.org.

The reading will be hosted by poet Phillip X Levine. All meetings are free, open to the public, and include an open mike.

*
Features:

Ken Holland - Ken Holland, a Pushcart Prize nominee, has had poetry and prose published in numerous literary journals, most recently in Rattle, Confrontation, Potomac Review, Southwest Review, and Texas Review. He's placed as a winner or finalist in several writing contests, and has had his poetry twice anthologized. He's featured at numerous poetry readings in Dutchess County, New York City, and Long Island. For a day job, he has the good fortune to earn a paycheck by working for one of the Manhattan publishing houses.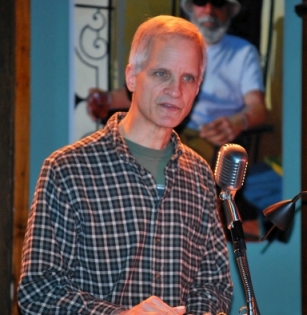 Dead Poet
There's a dead poet over in the bushes
Body held slightly aloft in the splay-limbed scaffolding
Face near to touching the ground
Mouth roundly parted as if the poet had been
speaking to the earth, and for this
had received an answer that latched
onto his veins and tightened his blood
and sent hallucinatory abominations through his
starving brain; you can see it in the angled agony
of the poet's arms, the jointed compression of
his legs, as though at the last he'd struggled for flurried motion
only to find the vacant traction of air,
his remnant thoughts blown like a rain shower
through the resinous woods, restive and vaporous,
slithering through the nettled undergrowth like a voice
that cannot overcome its own agitated silence.
There's a dead poet in the bushes.
-Ken Holland
*
Perry S. Nicholas - Perry S. Nicholas is an Associate English professor at Erie Community College North in Buffalo, N.Y., where he was awarded the 2008 SUNY Chancellor's Award for Scholarship and Creative Activities and the 2011 President's Award for Classroom Instruction. He received the SGA's Outstanding Teacher Award on two occasions. He has been a guest lecturer at Daemen College, Villa Maria College, Niagara County Community College, and New York College in Athens, Greece.
Perry has been nominated four times for the Pushcart Prize, in 2006, 2007, 2008, and 2010. His poems have appeared in Common Ground Review, Literary House Review, Caesura, Word Worth, Seven Circle Press, Slant, Feile-Festa, Louisiana Literature, Chautauqua Literary Journal, Chest, The Healing Muse and The New York Quarterly. His poems have appeared on sixteen occasions in the Buffalo News. He has published approximately 125 poems in print and online.
His first full-length book, The River of You, was published in September 2009 by Foot Hills Publishing. His second book of poetry, What the World Sees, was published by Saddle Road Press in July 2011. His third book, Small Crafts, was published by The Writer's Den in 2012. The fourth book, Beginnings: Poems to Greece and Back was printed in January 2013. The Company We Keep, co-authored with Maria Sebastian-Nicholas, is his fifth book of poetry. His most recent chapbooks are Ancient History and Like Trying to Explain, both printed in 2014.
Perry has also judged the Word Worth journal's poetry/essay contests and the 2013 Just Buffalo Annual Poetry contest.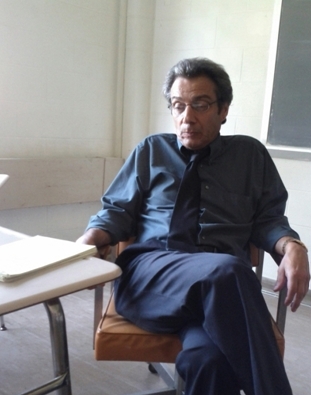 Aura
Everything smelled of paint thinner,
to some degree, around my father
and our house. A foreign perfume,
or a man's spicy cologne.
It circulated down the driveway
from the beds of tired work trucks
to the can-full garage, through the yard,
never empty enough to play in.
There was a lone lilac bush
just on the other side of our fence,
begging me to breathe in her fragrance
every morning, but instead, I rose
before the others to inhale my father
as he loaded paint on the pickup
with one hand, pulled lovingly
on his non-filters with the other.
Cigarettes, paint fumes, and stale whiskey—
an intoxicating concoction of scents.
They followed him day and night,
and I respected his aura of thinner.
It hung everywhere in the air,
just as a father's force lingers
forever heavy in a man's life.
Strange how our jobs seep out
of us unnoticed, undetected
except to those who need us.
I wonder if I smell of lead pencils,
new paper, coffee, and chalk.
-Perry S. Nicholas
***
Developing 2015 Schedule all readings at Golden Notebook (Upstairs)
01/January 10th – Ken Holland; Perry S. Nicholas (postponed)
02/February 14th – Cheryl Rice; Glenn Werner
03/March 14th – Leonard Brown; Perry S. Nicholas
04/April 11th – Richard Parisio; Sabrina Miller
05/May 9th – Christian Ortega; Victoria Sullivan
06/June 13th – Andy Clausen; Pamela Twining
07/July 11th – Donald Lev; Lucia Cherciu
08/August 8th – Kathy Z. Price; Sharon Gannon
09/September 12th – Kenneth Salzmann; TBA
10/October 10th – Barbara Ungar; John Amen
11/November 14th – Marcia Slatkin; TBA
12/December 12th – George Wallace; TBA and Annual Business Meeting

Also, why not become a 2015 Member of the Woodstock Poetry Society & Festival?
Membership is a nominal $15 a year. (To join, send your check to the Woodstock Poetry Society, P.O. Box 531, Woodstock, NY 12498. Include your email address as well as your mailing address and phone number. Or join online at: www.woodstockpoetry.com/become.html). Your membership helps pay for meeting space rental, post-office-box rental, the WPS website, and costs associated with publicizing the monthly events. One benefit of membership is the opportunity to have a brief biography and several of your poems appear on this website.