Woodstock Poetry Society
Featured Reading and Open Mike
Saturday, May 9th, 2015 at 2pm
Golden Notebook (Upstairs)

Christian Ortega
Victoria Sullivan

Poets Christian Ortega and Victoria Sullivan will be the featured readers, along with an open mike when the Woodstock Poetry Society & Festival meets at Golden Notebook (Upstairs), 29 Tinker Street on Saturday, May 9, 2015 at 2pm. Note: WPS&F meetings are held the 2nd Saturday of every month at Golden Notebook (Upstairs).

Note the venue - we will be at Golden Notebook (Upstairs) for this reading and throughout 2015. Thanks Jacqueline, and all at Golden Notebook.

Golden Notebook (Upstairs)
29 Tinker Street
Woodstock, NY 12498
www.goldennotebook.com
845-679-8000

Woodstock Poetry Society & Festival as part of the Woodstock Arts Consortium is sponsoring this poetry event as part of the Woodstock "Second Saturdays" Art Events. For a full listing of "Second Saturday" events, see: www.artsinwoodstock.org.

The reading will be hosted by poet Phillip X Levine. All meetings are free, open to the public, and include an open mike.

*
Features:

Christian Ortega - Christian Ortega was born in New York, NY in 1972. His main passions as a youth was painting and drawing. While in High School, he studied painting at The Cooper Union as well as being an Honors English student. His ability in writing took hold freshman year and progressed into adulthood. He schooled himself in communications on the job in the fields of retail, publishing and advertising. Christian Ortega later furthered his education by studying Poetry at The New School and Advertising Design at the Fashion Institute of Technology. His first book "Epigrams" was published in 2000 in a signed limited edition and sold at the Printed Matter bookstore in Soho, NY. After moving upstate in 2004, Ortega published a collection of poetry written during his teenage years entitled "I Know What You Did In The 80's". In 2009, he published the enigmatic "CONCEPTS and TITLES" which was also the subject of a solo exhibition in 2012 at The Storefront Gallery in Kingston, NY. For 2015, Ortega has published a new collection entitled "Red Poems" featuring over thirty poems on the themes of Love, Sex and Hate. Christian Ortega's planned future projects are a re-printing of "Epigrams" in a Special Edition and also researching and developing ideas for a book-length poem. More at: www.christianortega.com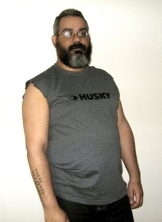 Miami
The writer leaves the city in case of rain
leaves all possession and takes
manuscripts encased some old
as high school years and
he didn't think twice
his start in writing was more
necessity than chance–he had to get it out!–
all rage and confusion he had to get going
deciding sooner was better than later
when they called final boarding
his plane was near empty except for a young
heterosexual couple whose conversation
soon set his stomach turning
as the steward brought coffee
pouring a smile a half a second
on further ascent the writer closed his eyes
miles high and things were fine
above the clouds and heading south
charging forth at the speed of rest
his avian mind awaits a carnal beach
-Christian Ortega
*
Victoria Sullivan - Victoria Sullivan is a poet, playwright, and radio talk show co-host (WDST 100.1) who divides her time between West Saugerties and Manhattan. She has written over 40 plays, 7 of which received Equity productions in New York City, as well as non-Equity productions at STS in Phoenicia (The Meet) and in Cooperstown NY (The Rented Room). She performs her poetry regularly in the Hudson Valley, as well as "Characters" (Molly/Natasha/ the post-apocalyptic crone, etc) in a kind of improv/stand-up routine. She is the poet laureate of "The Woodstock Roundtable." Her latest poetry chapbook, When I Wasn't Looking, is available on Amazon.com and at the Golden Notebook in Woodstock. She serves on the Prison Writing Committee of PEN and occasionally coaches poets in their performance skills and playwrights in play structure.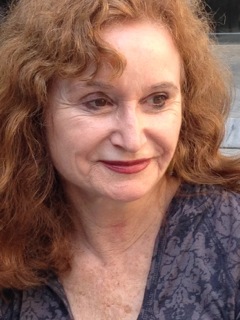 Cold Sunday In November
The cold came early this year,
as did the snow--which sits
like a stiff pilgrim-collar
in the far corner of the meadow,
un-melted two days after it fell
that dark Thursday night.
And we've had bright sun, so
what's the deal? Is this the new
super-snow that doesn't melt?
Nature has grown a little angry,
a little hard to please it seems
with all our green-house gases,
our greedy cars, hungry for
that fossil fuel we like to blast
out of her earth, blowing off
mountain tops, exploding
vast plateaus of shale,
by any frightful method
we can master long enough
to leave a trail of slow death,
scorched earth and decay.
And what of me, in my cold house,
feet cringing at the clammy floor?
Me waking alone on a cold Sunday
in mid-November, knowing we're in
for the long haul of winter now,
knowing the early dark will keep us
from fleeing our little cabins
at night, like the other small furry
creatures--hunkering down
in our isolated holes and nests:
a world where warmth is god,
and we're surviving by a thread.
And this, I think, is why the
Irish like to drink. No one goes
stone sober into this dark
underworld without a fight
for light. We cling
to our animal skins,
light fires and
pray for an early spring.
-Victoria Sullivan
***
Developing 2015 Schedule all readings at Golden Notebook (Upstairs)
01/January 10th – Ken Holland; Perry S. Nicholas (postponed)
02/February 14th – Cheryl Rice; Glenn Werner
03/March 14th – Leonard Brown; Perry S. Nicholas
04/April 11th – Richard Parisio; Sabrina Miller
05/May 9th – Christian Ortega; Victoria Sullivan
06/June 13th – Andy Clausen; Pamela Twining
07/July 11th – Donald Lev; Lucia Cherciu
08/August 8th – Kathy Z. Price; Sharon Gannon
09/September 12th – Kenneth Salzmann; TBA
10/October 10th – Barbara Ungar; John Amen
11/November 14th – Marcia Slatkin; TBA
12/December 12th – George Wallace; TBA and Annual Business Meeting

Also, why not become a 2015 Member of the Woodstock Poetry Society & Festival?
Membership is a nominal $15 a year. (To join, send your check to the Woodstock Poetry Society, P.O. Box 531, Woodstock, NY 12498. Include your email address as well as your mailing address and phone number. Or join online at: www.woodstockpoetry.com/become.html). Your membership helps pay for meeting space rental, post-office-box rental, the WPS website, and costs associated with publicizing the monthly events. One benefit of membership is the opportunity to have a brief biography and several of your poems appear on this website.