Woodstock Poetry Society
Featured Reading and Open Mike
Saturday, March 11th, 2017 at 2pm
Golden Notebook (Upstairs)

Perry S. Nicholas
Peter Coco
Poets Perry S. Nicholas and Peter Coco will be the featured readers, along with an open mike when the Woodstock Poetry Society & Festival meets at Golden Notebook (Upstairs), 29 Tinker Street on Saturday, March 11th, 2017 at 2pm.

Note: WPS&F meetings are held the 2nd Saturday (2pm) of every month at Golden Notebook (Upstairs).

Golden Notebook (Upstairs)
29 Tinker Street
Woodstock, NY 12498
www.goldennotebook.com
845-679-8000

The reading will be hosted by poet Phillip X Levine. All meetings are free, open to the public, and include an open mike.

*
Features:

Perry S. Nicholas - Perry S. Nicholas is an Associate English professor at Erie Community College North in Buffalo, N.Y. where he was awarded the 2008 SUNY Chancellor's Award for Scholarship and Creative Activities and the 2011 President's Award for Classroom Instruction. He received the SGA's Outstanding Teacher Award on two occasions. He has produced one textbook of creative writing prompts, five full-length and three chapbooks of original poetry, and one CD of poetry. To read more about him, go to www.perrynicholas.com.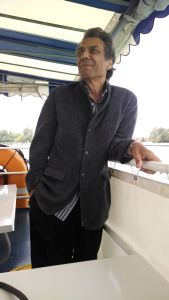 Memento

Ripples on the azure pond slowing,
no ducks surface to sneak a look.
A blank page with no scribbles, stuffed
between bench slats, where you visit now.

I wonder how long before someone
settles there with you. Will you explain
how special we were, more so
than any of these sparkling nights?

I wish you hadn't witnessed my reflection,
hobbling off toward the finish—
I had hoped to appear upright
during the final months of our meet.

A majestic moment, when you agreed
to marry our lives. Bluest, tinted later
when you said you were never sure. Still,
here is my pond, your smooth inheritance.

-Perry S. Nicholas

*

Peter Coco - Peter Coco (Peter Cocuzza) is a Poet and Novelist from Newark, New Jersey. His work draws on experiences growing up there through the '50's and '60's, as well as later travels in India, the Middle East, Europe, Africa and America. He now resides in Woodstock, New York. A.K.A. Peter Coco, At The Hop, Recent Poems Ohayo Press, 2016. Rise anthology, Vagabond Press, 2017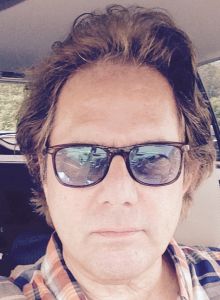 I Saw You

I Know You Were There
I Saw You

Your Mother
Got Nasty With The Cops
Like She Always Did
And You Went Back
To The Basement
After The Fracas
And Continued Screwing
Beverly Davis –
The Finest Black Girl
In Grammar School –
Her Long Legs
Wrapped Around
Your Neck –
I Saw That Too
From The Side
Of The Doorway –
Wow! That Was
Something For A Kid
Like Me – Still Looking
For A Kiss!

The Day After
Me And Your Sister
Won 2nd Place
In The Twist Contest,
You Stepped In DogShit
With Your New Wingtips…
I Saw It And Called
You "Shitshoe" Loudly
In Our 7th Grade Class
You Had Just Been
Transferred To From
Reform School

You Banged Me
In The Face For That
And I Understood
That Our Best Friendship
Was Over

…And Now For
The Hard Part…
I Was There
On The Street
When Your Crippled
Father Beat You
So Bad With His Cane
Out Onto The Stoop
Of Your Building
And You Ran Up
The Fire Escape
5 Stories
To The Roof
And Stayed There
At The Edge, Shivering
In Your Pajamas,
In A Big Blizzard.
Your Mother
Called The Cops
And They Got You Down
And Warned Your Father.
#
When I Saw That,
I Knew That You
Were Worse-Off
Than Me And
Always Would Be

****************

Over The Next
Dozen Or So Years
I Wrote 3 Poems
Wondering About
You In Jail
And Whether You
Were Out Yet:
One On A Canal
Barge In Amsterdam,
One From An Oasis
In The Sinai,
One From A Coutyard
In The City Of Thanjavur –
I Asked Myself
About The Luck
Of Freedom –
Why Me And Not You?
Afterall, You Were The
Brave One.

When I Returned
Home, You Were On The
Front Page
Of The News
Along With Your
Brother And Sister –
Busted Kidnapping
The Richest Man
In America.

I Saw That
I Saw You

Now Everyone Did,
Even Me

-Peter Coco

*

Developing WPS 2017 Schedule - all readings at Golden Notebook (Upstairs)

01/January 14th – Elizabeth J. Coleman; Lee Slonimsky
02/February 11th – Janet Hamill; Pauline Uchmanowicz
03/March 11th – Perry Nicholas; Peter Coco
04/April 8th – Matthew J. Spireng; Richard Levine
05/May 13th – Joel Lewis; Kate Reese Hurd
06/June 10th – Karen Corinne Herceg; Mike Jurkovic
07/July 8th – Donald Lev; Howard J. Kogan
08/August 12th – Paul Nash and the "Palisades Poets"
(John J. Trause, Denise La Neve, Josh Humphrey, Susanna Rich, Mort Rich, ...)
09/September 9th – Mary Makofske; TBA
10/October 14th – John Amen; Ken Holland
11/November 11th – Cate McNider; Laurence Carr
12/December 9th – Dante Kanter; Otis Kidwell Burger; and Annual Business Meeting

Also, why not become a 2017 Member of the Woodstock Poetry Society & Festival?

Membership is $20 a year. (To join, send your check to the Woodstock Poetry Society, P.O. Box 531, Woodstock, NY 12498. Include your email address as well as your mailing address and phone number. Or join online at: www.woodstockpoetry.com/become.html). Your membership helps pay for meeting space rental, post-office-box rental, the WPS website, and costs associated with publicizing the monthly events. One benefit of membership is the opportunity to have a brief biography and several of your poems appear on this website.