Woodstock Poetry Society
Featured Reading and Open Mike
Saturday, December 9th, 2017 at 2pm
Golden Notebook (Upstairs)

Dante Kanter
Otis Kidwell Burger
and the Annual Business Meeting
Poets Dante Kanter and Otis Kidwell Burger will be the featured readers, along with the WPS Annual Business Meeting and an open mike when the Woodstock Poetry Society & Festival meets at Golden Notebook (Upstairs), 29 Tinker Street on Saturday, December 9th, 2017 at 2pm.

Note: WPS&F meetings are held the 2nd Saturday (2pm) of every month at Golden Notebook (Upstairs).

Golden Notebook (Upstairs)
29 Tinker Street
Woodstock, NY 12498
www.goldennotebook.com
845-679-8000

The reading will be hosted by poet Phillip X Levine. All meetings are free, open to the public, and include an open mike.

*
Features:

Dante Kanter - Dante Kanter was born and raised in the Catskill Mountains of Upstate New York. He has attended the Iowa Young Writers Studio and garnered recognition from the Scholastic Young Art & Writing Awards. He has been published by The Battering Ram, Chronogram, and The Woodstock Times. His chapbook, Lady and Me, was released this April.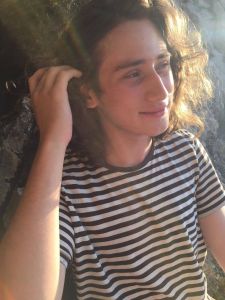 Prenatal in Dallas

Cracked clayfield where Adell pressed in her face and inhaled while the kids
watched, new, watery eyes pressed to the window.
What God is God? What country? She felt
in her bowels, a living ulcer stirring,
waiting to cry.
Texas went infertile millenias ago.
The body is not meant for this.
She swells
and roils--
the body is inflamed.

One night, in Dallas
Adell severs her breast in the bathtub
and lets it soak in ice water.
It is funny, to see it so removed
to treat it as it is, as meat.
The child inside her is a tectonic plate,
the child, inside her, rumbles,
like his daddy rumbles
in the dust-storms, so far--
she stares at the tacky red of her own
severed breast.
It will give me room, she thinks. She always looked for room.
Room to draw back her bow and foul a swine
with gore.

Texas is 790 miles long. In between, there are stones.
Like a winking giant
the sky does not shelter or wince. The sun is painful.
In time, she will find,
despite all the love and grace caught fire inside her,
despite the child's skin like honey,
the one, unsevered breast,
like the flag of an unknown country,
never gave milk.

-Dante Kanter

*

Otis Kidwell Burger - Writer and artist Otis Kidwell Burger was born in 1923 in Staten Island, NY, and has lived in Greenwich Village since 1932. She graduated from Cornell University and married Knox Breckenridge Burger in 1946; they had two daughters, Neall and Katherine.

Her published work includes: An Interesting Condition, a novel; The String That Went Up, a children's book; poetry in The New Yorker, Good Housekeeping, and Gourmet Magazine; science fiction in Galaxy and Astounding magazines. She's written book reviews for The New York Times, Book of the Month Club,The Village Voice, and Kirkus Services, as well as articles in the Villager. She will be reading from her recent book, Cats, Love, & Other Surprises. Most of the poems in the book were written in the last two years.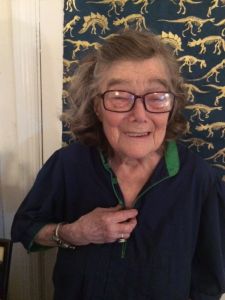 I Ran Away From Home When I was Nine

I ran away from home when I was nine. I took my cat,
A doll carriage carrying a bottle of malted cod liver oil, of which the cat and I were fond,
The complete works of O'Henry
And a hat.
We scurried across the lawn, scampered into the woods and camped just out of sight.
It was hot. The sun outside was bright.
But it was dim and quiet inside the woods, except for distant crows
And the incessant tiny whine of mosquitos.
We shared a snack.
We crept out and peered back.
Nothing.
Nobody missed us.
We could have vanished from July
To Christmas,
No hue and cry,
No bloodhounds yelping: "She's safe! We found her!" No cries,
Of "We were wrong! You're right! We are abjectly sorry! We apologize."
Silence.
The cat grew bored and wandered off.
The dim dancing leafy light made it too hard to read.
Eventually, I trailed home for supper.

Some eight decades later, I am still
Camping out in the woods, alone,
Sharing odd fishy tidbits with my cats.

The homes I lived in have been long since torn down.
It is far too late for supper
Or for apologies
On either side

-Otis Kidwell Burger

*

Developing WPS 2017 Schedule - all readings at Golden Notebook (Upstairs)

01/January 14th – Elizabeth J. Coleman; Lee Slonimsky
02/February 11th – Janet Hamill; Pauline Uchmanowicz
03/March 11th – Perry Nicholas; Peter Coco
04/April 8th – Matthew J. Spireng; Richard Levine
05/May 13th – Joel Lewis; Kate Reese Hurd
06/June 10th – Karen Corinne Herceg; Mike Jurkovic
07/July 8th – Donald Lev; Howard J. Kogan
08/August 12th – Paul Nash and the "Palisades Poets"
(John J. Trause, Denise La Neve, Josh Humphrey, Susanna Rich, Mort Rich, ...)
09/September 9th – Mary Makofske; TBA
10/October 14th – John Amen; Ken Holland
11/November 11th – Cate McNider; Laurence Carr
12/December 9th – Dante Kanter; Otis Kidwell Burger; and Annual Business Meeting

Also, why not become a 2018 Member of the Woodstock Poetry Society & Festival?

Membership is $20 a year. (To join, send your check to the Woodstock Poetry Society, P.O. Box 531, Woodstock, NY 12498. Include your email address as well as your mailing address and phone number. Or join online at: www.woodstockpoetry.com/become.html). Your membership helps pay for meeting space rental, post-office-box rental, the WPS website, and costs associated with publicizing the monthly events. One benefit of membership is the opportunity to have a brief biography and several of your poems appear on this website.