Woodstock Poetry Society
Featured Reading and Open Mike
Saturday, March 10th, 2018 at 2pm
Golden Notebook (Upstairs)

Cheryl Rice
Guy Reed

Poets Cheryl Rice and Guy Reed will be the featured readers, along with an open mike when the Woodstock Poetry Society meets at Golden Notebook (Upstairs), 29 Tinker Street on Saturday, March 10th, 2018 at 2pm.

Note: WPS meetings are held the 2nd Saturday (2pm) of every month at Golden Notebook (Upstairs).

Golden Notebook (Upstairs)
29 Tinker Street
Woodstock, NY 12498
www.goldennotebook.com
845-679-8000

The reading will be hosted by poet Phillip X Levine. All meetings are free, open to the public, and include an open mike.

*
Features:

Cheryl Rice - Born on Long Islander, Cheryl A. Rice has called the Hudson Valley home since 1980. Her work has appeared in Baltimore Review, Chronogram, Dead Snakes, Florida Review, Home Planet News, Misfit Magazine, The Temple, Trailer Park Quarterly, and in the anthologies Wildflowers, Vol. II (2002: Shivastan Publishing), Riverine (2007: Codhill Press) and For Enid, With Love (2010: NYQuarterly). She is the author of the chapbooks "Kingston Is Burning" (2012, Flying Monkey Press), and "My Minnesota Boyhood" (2011, Post Traumatic Press). Rice won First Prize in the 2017 Stephen A. DeBiase Poetry Contest, and was nominated for "Best of the Web 2015" by Walking Is Still Honest Press. She is founder/host of the now-defunct Sylvia Plath Bake-Off, and leads RANDOM WRITING poetry workshop series throughout Upstate New York. Her poetry blog, Flying Monkey Productions, is at http://flyingmonkeyprods.blogspot.com/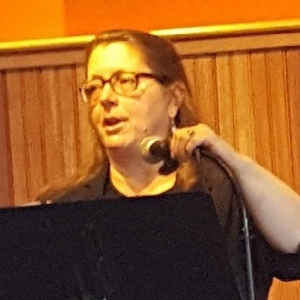 In Bed, Then Out

My heart flutters
after a stolen orgasm,
it is time for sleep, but I know
the poems that have been collecting
in my head for weeks
are ready to fall now,
scarlet leaves from the bare branches
my thoughts have become.

I roll over, nudge my Beloved
to turn on the white noise
on the radio/cassette/CD player
that helped him sleep when he
was newly alone, for the first time in his life.
But I know that if I let myself
drift off, the poems so
sharp and ordered now
will scatter by morning,
as hard as I might try to keep them
gathered, piled, undisturbed.

-Cheryl Rice

*

Guy Reed - Guy Reed is a graduate of The American Academy of Dramatic Arts and author of the poetry chapbook, The Effort To Hold Light (Finishing Line Press). Most recently, he's published poems in Poetry East and contributed 2 poems, performing one, in a featured role for the independent feature film, I Dream Too Much (2015, 77 Films, Attic Light Films), available on Netflix. Guy has lived in the Catskill Mountains the past 20 years with his wife and their two children.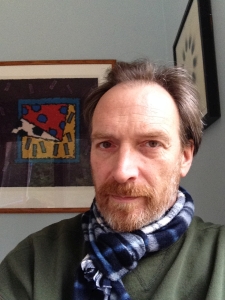 Presence

For hundreds of years
we've taken from the mountain
cleared its trees twice
we drink its rills
fish its streams
hunt its shelters
we scrape its sides
pull, cut and flatten
to build our altars of stone and wood.
We take our solace.
The mountain remains.
I take my poems from its shadows
I leave my flesh in return.

-Guy Reed

*

Developing WPS 2018 Schedule - all readings at Golden Notebook (Upstairs)
All of 2018 Events: Events

01/January 13th - Philip Pardi; Sparrow
02/February 10th - Frank Boyer; Philip Fried
03/March 10th - Cheryl Rice; Guy Reed
04/April 14th - Donald Lev; Mary Leonard
05/May 11th - Judith Saunders; Lucia Cherciu
06/June 9th - Dennis & Justin Bressack
07/July 14th - Therese L. Broderick; TBA
08/August 11th - TBA
09/September 8th - Catherine Arra; TBA
10/October 13th - Barbara Elovic; Carl Rosenstock; Richard Levine
11/November 10th - TBA
12/December 8th - TBA and Annual Business Meeting

Also, why not become a 2018 Member of the Woodstock Poetry Society?

Membership is $20 a year. (To join, send your check to the Woodstock Poetry Society, P.O. Box 531, Woodstock, NY 12498. Include your email address as well as your mailing address and phone number. Or join online at: www.woodstockpoetry.com/become.html). Your membership helps pay for meeting space rental, post-office-box rental, the WPS website, and costs associated with publicizing the monthly events. One benefit of membership is the opportunity to have a brief biography and several of your poems appear on this website.

(click here to close this window)